Faithful Muslims "See Isa" After Ramadan
ZAMBOANGA CITY, PHILIPPINES (ANS) -- A number of faithful Muslims here could hardly believe what they saw in their dreams weeks after Ramadan, a 30-day period of prayer and fasting by followers of the Islam Faith.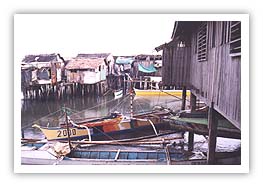 Muslim Badjao Village, Philippines

This was disclosed by a devout follower of Isa who works among the Tausugs, the largest Muslim tribe in the Philippines.

He relayed some recent accounts of some Muslims who "saw Jesus" in their dreams. A Muslim resident in Sinunuc, a remote village in this city, could hardly believe when he saw Isa (Jesus) in a dream and defeated a giant dragon in a duel. The resident had the same dream the following night as well.

"From that time, the resident became more interested about the teachings of Jesus while a group of [followers of Isa] continue to...share the love of Jesus to [this person]," he added.

In an another related account, another Muslim from the west coast district of this city dreamed of Jesus healing many people. The following day, he shared his dream to his fellow Muslims that Isa can heal sickness. This Muslim dreamer prayed and asked Isa to heal those who requested prayer and they eventually experienced complete healing.

"The Muslim faith healer continues to profess that he is still a Muslim but he always shared that the power of healing he administered came from Jesus," this worker said.

"No one can save you but Jesus," the healer said every time he prayed for the physically ill...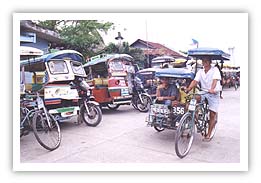 Tricycle transportation, Philippines

This worker recalled that the first time he heard such similar account was two years ago after Ramadan when he encountered a Yakan (Muslim tribe) resident in Basilan Province (neighboring island of this city) who dreamed of Prophet Mohammad who cannot stare directly at the eyes of Jesus Christ.

The Yakan dreamer was confused by what he saw in his dream, thus, he asked his cousin, a follower of Isa, the meaning of that dream. His cousin replied that "Your dream depicts that Isa is greater than Mohammad."

A number of Muslims continue to see visions in this city and it has been the talk of the village in the west coast, according to this worker.

WHY DO SOME OF THESE MUSLIMS DREAM OF JESUS?

This worker noted one common practice among faithful Muslims who dreamed about Jesus. He recounted that during Ramadan, these Muslims are required to pray five times a day to Allah but they have the options to pray six to seven times a day. In their sixth and seventh prayer, these Muslims have been asking God to reveal Himself in any form of vision and let truth reign in their lives.

In the Tawrat, Joel 2:28 says that "in the last days, your old men will dream dreams, your young men will see visions."

Editors Note: The Yakan and Tausug people were among several Filipino groups blanketed with prayer by thousands of Christians worldwide during the 16th day of Ramadan in 2002. I'm sure this concerted prayer effort also has led to an increased number of dreams and overall interest in Jesus.

By Dale Thomson, ASSIST News Service. Posted 27 Dec 2002. Used with permission. Edited slightly from its original form.